Learn Top Bill-Fishing Secrets from the SailsCall Crew!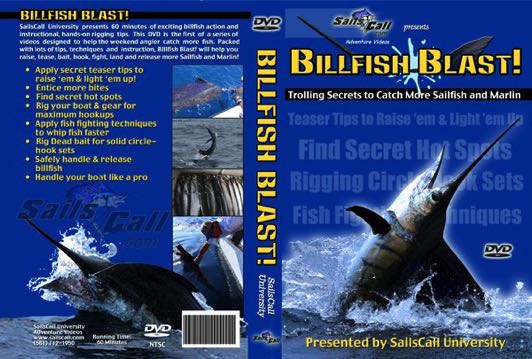 Trolling Secrets to Catch More Sailfish and Marlin!
SailsCall Media presents 40 minutes.  Of exciting billfish action and instructional, hands-on rigging tips. This DVD is the first of a series of videos designed to help the weekend angler catch more fish.  Packed with lots of tips, techniques and instruction, Billfish Blast! will help you tease, raise, bait, hook, fight, land and release more Sailfish & Marlin!
In less than 40 minutes learn how to:
•    Apply secret teaser tips to raise 'em & light 'em up!
•    Entice more bites
•    Find secret hot spots
•    Rig your boat & gear for maximum hookups
•    Apply fish fighting techniques to whip fish faster
•    Rig dead bait for solid circle-hook sets
Testimonials About Billfish Blast!
Captain & Angler Reviews
of Billfish Blast!
"I have been fishing for billfish for 30 years and felt this video was the most comprehensive 40 minutes on the market today. I have caught sailfish on every line class and thought I knew everything there was to know... until I saw this video."
-Scott Nichols, North Palm Beach, FL
"The Billfish Blast video is one of the most comprehensive videos on billfish fishing I have seen. It is very professionally done and packs a full 45 minutes of excellent information for not just the angler, but also for the boat handler, and wireman. There is so much information packed in the video you will want to watch it over and over. It covers all aspects including rigging, knots, hook-up and the fight and should be watched by all serious billfish anglers. I truly believe everyone can benefit from secrets and tips provided in the video."
-Capt. Douglas W. Bullock, Fishin' Daze Charters, Palm City, FL
"I viewed your DVD this weekend and thoroughly enjoyed it. As it
happened, we viewed it in our local tackle shop/marina with several very knowledgeable fish heads, many who have fished Costa Rica as well as other foreign billfish hot spots. Everyone had very positive things to say about the DVD.
The fishing footage is fantastic- excellent video quality and a real
pleasure to watch. Good focus on the bite, that's what billfishing is
all about. Nice soundtrack too. My boys have watched in 3 or 4 times already.
The instructional portions are particularly well done. You very clearly
have laid out the techniques and provide enough close video and step by step instruction that any average angler could replicate the recommended techniques. Even the captains and mates who watched with us had a hard time finding any fault with it.
Congratulations on putting together a very fine video!"
-Tom Wichers, Stuart, FL
"Billfish Blast is incredible. To get this kind of information from a professional billfishing crew is priceless and the trolling footage keeps it exciting. I can't wait to use the 5 minute swimming ballyhoo rig in the tournaments in south east Florida. I recommend this video for beginners to the avid fisherman. We can use the trolling tips whether we are fishing our 65' Viking in a tournament or fun fishing in our Jupiter Center Console."
-Brad Belcher, Tequesta, FL 31' Jupiter 65' Viking "Lady Jan"
"Now I rig baits correctly in our den right in front of my TV. My wife says thanks for that."
-Ellis Franklin, Melbourne, FL
"I recently watched your new DVD Billfish Blast! You titled it well. I especially like how it can be watched as an entertainment video or an instructional one. I enjoyed watching those huge Sailfish and Blue Marlin sky-rocket behind the boat. Better yet, I actually learned a few good tips that I would not have thought of without this DVD. I can't wait to use the new weapons you armed me with in battle. Sailfish season is upon us and now they will be afraid of me. Very, very afraid."
-Adam Wilner, Jupiter, FL
"I just had the pleasure of watching SailsCall's instructional DVD for billfishing. Great instruction on dead bait rigging with circle hooks, trolling patterns, dropping back to billfish with circle hooks, wiring fish, and reviving them properly before turning them loose. There is also lots of fantastic sailfish and marlin action footage.
You did a great job, Kent!"
-Capt. Dave Gates, Ft. Lauderdale, FL